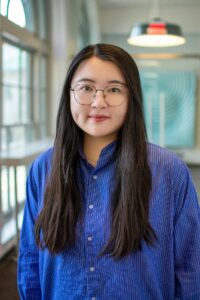 AMS is pleased to welcome our newest fellow Yuwen Shen, joining our team from August 8th to October 28th. Yuwen has a strong intersectional interest in community development with arts and cultural practices. Born and raised in China, she holds a bachelor's degree in law from Zhejiang University. Yuwen enjoyed a unique experience studying arts and cultural management in the US and Italy. She graduated in Arts Management at Carnegie Mellon University and Innovation and Organization of Culture and the Arts at the University of Bologna.
As a Morningside Cultural China Scholar and a world citizen, Yuwen started her exploration of culture and arts for community development in different types of organizations. She worked as a full-time trainee in the UNESCO Office in Kathmandu in Nepal from 2017 to 2019 in both the culture and education units. She worked on developing, coordinating, and evaluating programs on cultural heritage digitalization, community heritage activities, indigenous cultural activities, and vocational training in community learning centers. She also researched comparative education policies and heritage protection. Yuwen has worked both in a university museum and a community museum. Her working experiences in public programs, educational activities, large-scale events, publicity, and community engagement have consolidated her understanding of how arts organizations could improve diversity, equity, accessibility, and inclusion. Since 2019, Yuwen has also worked as the community engagement officer at SEED Social Innovation, one of China's largest social innovation networks. She firmly believes that arts and culture could significantly bring positive social impacts to communities through social innovation. In her spare time, Yuwen runs an art podcast and writes articles on often underrepresented topics in the arts and cultural field. She also plays the bamboo flute and practices Chinese calligraphy.
Aspiring to a career in arts and culture consulting, Yuwen is very excited to be selected for the AMS Planning & Research Expanding Pathways to Consulting Fellowship. She is eager to learn from her mentors and sharpen her arts and culture consulting skills through practical training and interactive dialogues.
AMS's first-in-the-field program was initiated in 2019 to help support and escalate involvement of individuals from groups that have been underrepresented in the arts and culture consulting field. Fellowships are intended to provide practical training and play a role in nurturing leadership by expanding and fostering inclusiveness within the discipline of arts and culture consulting.
Program participants will be mentored by recognized sector leaders and engage in valuable training and dialogue with a professional staff that collectively has decades of expertise in the arts and culture arena. Experience at AMS may play a role in providing a competitive advantage when fellows who have been engaged in the program are looking for employment in the arts and culture sector.