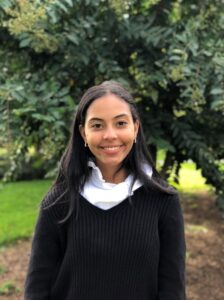 AMS is pleased to welcome our fourth fellow in our Pathways to Consulting Fellowship, Rebekah Boggs. Rebekah's term begins in July and will end in October.
Rebekah holds a B.A. in Art History from the University of Virginia. Her career experiences, which are often based in community engagement and arts education, are centered around making the arts accessible to all members of our community. Prior to joining AMS Planning & Research, she worked as the Tour Coordinator and Education Assistant at the Fralin Museum of Art. In that role, she led the museum's social media outreach and designed educational and artistic resources.
Rebekah also previously served as a Summer Community Fellow at NEW INC, in partnership with the Diversity in Arts Leadership (DIAL) Program. As a Summer Community Fellow, she scrubbed, analyzed, and published NEW INC's key performance indicators on annual demographic and economic impact, contributing to NEW INCs ongoing commitment to diversity, inclusion, and economic and creative impact. At Franklin Furnace, an avante-garde arts organization, she collaborated with others to design and construct the exhibition," Label This", which focused on accessibility in art. Outside of her career, Rebekah has a strong passion for music and enjoys attending concerts. She was the president of UVA's student-led radio station, WXTJ, during her senior year of college. Rebekah is excited to work with AMS to expand her interest in engaging with the community through the arts, sharpen her skills in research and writing, and learn more about the field of consulting from her mentors.
AMS's first-in-the-field program was initiated to help support and escalate involvement of individuals from groups that have been underrepresented in the arts and culture consulting field. Fellowships are intended to provide practical training and play a role in nurturing leadership by expanding and fostering inclusiveness within the discipline of arts and culture consulting.
Program participants will be mentored by recognized sector leaders and engage in valuable training and dialogue with a professional staff that collectively has decades of expertise in the arts and culture arena. Experience at AMS may play a role in providing a competitive advantage when fellows who have been engaged in the program are looking for employment in the arts and culture sector.