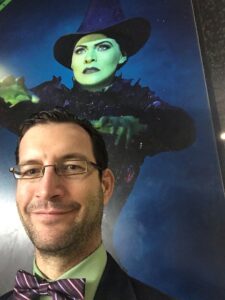 AMS is pleased to welcome Fellow Peter Royston! Peter will be joining our team from March 27th to June 23rd.
Peter Royston (He/They) is a Disabled Theater Maker, Published Writer, DIEB Facilitator, Rockstar Barista, Husband, Professional Stage Manager, and AEA Eastern Stage Manager Councilor. Peter has been heard on several podcasts describing their experiences with ableism and accessibility in the theater industry. Peter is thrilled to join any cause or project that amplifies and uplifts their community.
Peter is eager to surround themselves with the amazing AMS humans. Peter is interested in data, surveys, and conversations surrounding EDI, specifically Disability and Accessibility. Strategic planning and executive hiring searches are also thrilling prospect areas of interest as these shifts and decisions affect everyone. Peter plans to uplift and diversify their influence so that one day their vision of a fully accessible and inclusive world is realized. They welcome all conversations and questions on these areas.
AMS's first-in-the-field program was initiated in 2019 to help support and escalate involvement of individuals from groups that have been underrepresented in the arts and culture consulting field. Fellowships are intended to provide practical training and play a role in nurturing leadership by expanding and fostering inclusiveness within the discipline of arts and culture consulting.
Program participants will be mentored by recognized sector leaders and engage in valuable training and dialogue with a professional staff that collectively has decades of expertise in the arts and culture arena. Experience at AMS may play a role in providing a competitive advantage when fellows who have been engaged in the program are looking for employment in the arts and culture sector.